Frontlines
Saved to Serve
On the Ground in Ukraine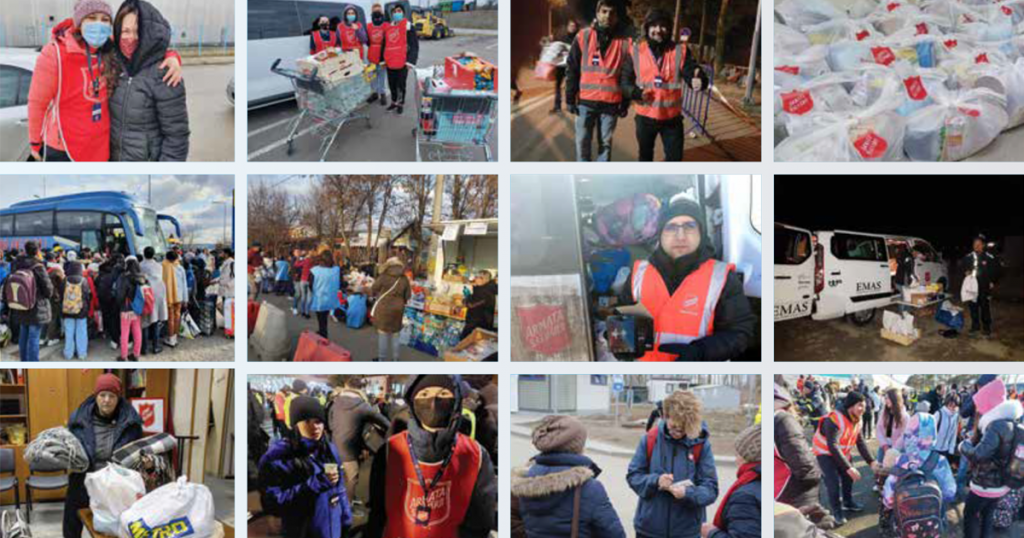 Ever since the humanitarian crisis in Ukraine began in late February, The Salvation Army has been on the scene both in battle-torn Ukrainian cities and in neighboring countries that are receiving refugees and providing aid. The Salvation Army has centers in nine cities in Ukraine, including its Divisional Headquarters located in the capitol city, Kyiv. Where it is safe to serve, Salvation Army officers have pivoted programs to provide food, clothes, blankets, and emotional and spiritual care to those who have been displaced from their homes and are seeking refuge.
"The Salvation Army of Ukraine began to help refugees from the first hours of the conflict," says Major Galina Drosdovschi, Divisional Director for Women's Ministries. "Despite limited resources, we provide daily assistance in the form of food, clothes, blankets, and mattresses. Psychologists work with refugees and migrants; officers pray and strengthen people through the Bible." She also mentions Sunday services that have been held in bomb shelters, reaching the people where they are. The basement of the corps in Kyiv has also been converted into a shelter. The Salvation Army in Lviv shared contact details on social media so people could access essential items. Food and non-food supplies were provided in several areas, particularly near Ukraine's borders. On the Russian side of the border, soldiers provided similar services to those in need.
While Salvation Army teams throughout Eastern Europe and beyond are providing similar relief efforts, some activities of note have occurred in several locations. The Army in Romania sent emergency teams to work at border crossings, assisting the large number of Ukrainian refugees in many ways. Notable assistance included relocating refugees to other locations in Europe, with special help being provided to women, children, and the elderly. Salvation Army connections across Europe made relocations possible. Many families were also reunited there, and Salvation Army teams provided help in procuring legal documents and plans for transport.
When humanitarian efforts could safely be performed, The Salvation Army of Moldova was able to deliver medical supplies across the border to a children's ICU (intensive care unit) in Odessa. The Salvation Army worked in coordination with the "Center for Refugees Reception" in the village of Mikhailany, and refugees from Ukraine were also supported with temporary accommodation and internet access, made possible by the innovative use of Salvation Army buildings and facilities.
In Poland, relief packages were prepared and distributed to an estimated 100,000 Ukrainian refugees arriving per day. Captain Matthew Beatty and Damaris Frick, of International Emergency Services (IHQ), planned strategies with colleagues on the front line. The regional officers and corps officers in Warsaw together with International Emergency Services were able to bring much needed supplies to a Warsaw reception. Signs read in Ukrainian: "Welcome, free food for all."
Emergency response teams from Czech Republic and Slovakia met and worked together frequently to provide physical and spiritual aid. At the time of writing, Czech Republic had received over 200,000 Ukrainians and was anticipating many more. The Salvation Army in Czech Republic altered their social services to provide aid while maintaining existing services for regular clients.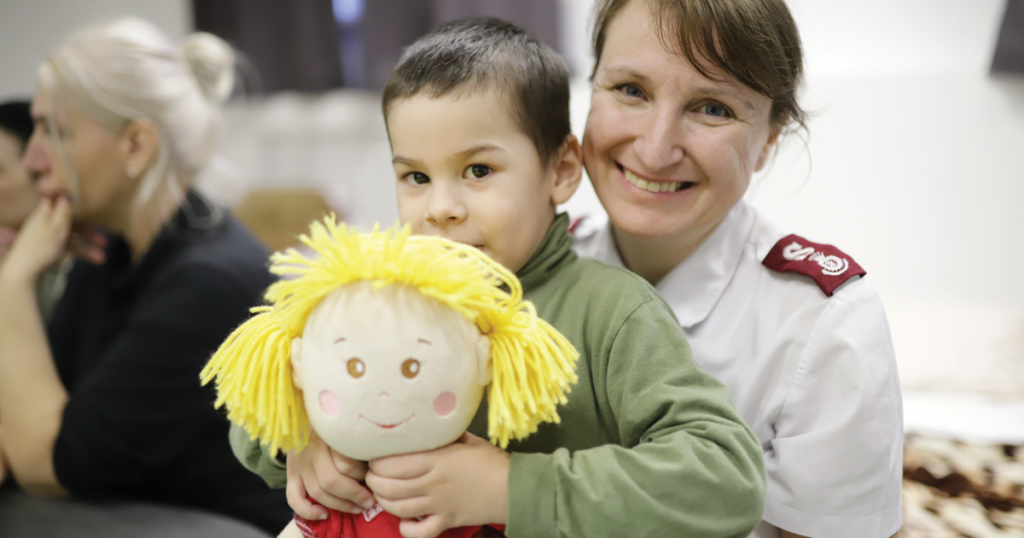 General Brian Peddle called on the international Salvation Army family to pray for a diplomatic resolution to the conflict. He said, "Our service to the Kingdom of God transcends national identity and crosses international borders without prejudice or discrimination. We have officers serving communities in Russia and Ukraine today, and I ask you to pray for them and for those in mourning as this crisis unfolds. We pray for a diplomatic resolution to this conflict and for peace to return swiftly to avoid further loss of life." General Peddle acknowledged the strain placed on all Salvation Army officers in each country and thanked them for their service. "We are dismayed by the loss of life and stand in solidarity with our brothers and sisters in Christ as they continue to serve their communities."
Relief efforts are ongoing. Visit sawso.org to learn more and to find out how you can help.