Try This
Shamrock Empanadas
Prep time: 10 minutes | Cook time: 30 minutes | Serves: 24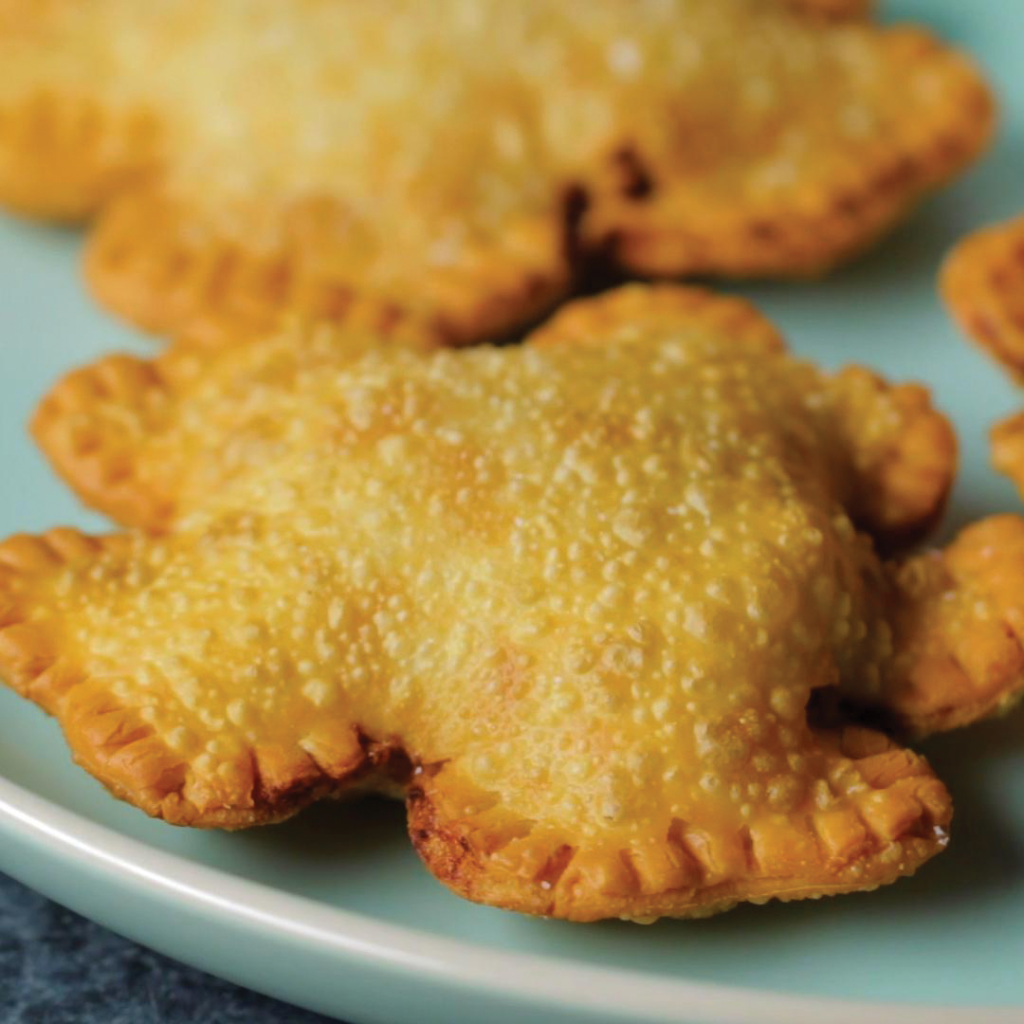 These crispy pockets of shamrock-shaped dough are filled with a delicious mixture of corned beef, potatoes, and cabbage. They're crunchy, meaty, and even better, they're served with two zesty dips–horseradish herb and spicy mustard sauce. Luck never tasted better!
Special Equipment
Clover-shaped cookie cutter, 3 in (7 cm)
Candy or deep fry thermometer
Pastry brush
Horseradish Herb Sauce
2 tablespoons prepared horseradish
¼ cup mayonnaise
¼ cup sour cream
1 tablespoon fresh chives, chopped
1 tablespoon fresh parsley, minced
½ tablespoon apple cider vinegar
1 teaspoon kosher salt
Spicy Mustard Sauce
½ cup mayonnaise
¹/₃ cup spicy brown mustard
1 tablespoon apple cider vinegar
1 tablespoon honey
Empanadas
2 qt canola oil, or vegetable oil, for frying
½ lb corned beef, cooked and cooled
½ cup sauerkraut, drained
1 cup shredded carrot
1 ½ cups cabbage, steamed, drained and cooled
¼ cup fresh parsley, rinsed and stems removed
1 teaspoon freshly ground black pepper
1 teaspoon ground coriander
1 teaspoon whole mustard seeds
1 teaspoon ground mustard
2 teaspoons kosher salt, plus more for sprinking, divided
1 cup red potato, cooled and finely diced
2 large eggs
1 tablespoon water
2 packages empanada dough rounds
Instructions
Make the horseradish herb sauce: In a medium bowl, stir together the horseradish, mayonnaise, sour cream, chives, parsley, apple cider vinegar, and salt. Cover with plastic wrap and chill in the refrigerator until ready to serve.
Make the spicy mustard sauce: In a small bowl, stir together the mayonnaise, spicy brown mustard, apple cider vinegar, and honey. Cover with plastic wrap and chill in the refrigerator until ready to serve.
Make the empanadas: Heat the canola oil in a medium pot over medium-high heat until it reaches 350°F (180°C). Set a wire rack over a baking sheet.
In a 4-quart food processor, combine the corned beef, sauerkraut, carrots, cabbage, parsley, pepper, coriander, mustard seeds, ground mustard, and 2 teaspoons salt. Pulse for 30 seconds, until well combined and everything is finely ground. Add the potatoes and pulse for 10–15 seconds more, until the potatoes are very finely chopped but still visible.
Transfer the filling to a sieve set over a bowl and use a rubber spatula to press out any excess liquid.
In a small bowl, beat together the eggs and water.
Lay 2 empanada dough rounds on a clean surface and brush all over with egg wash. Set a 3-inch clover cookie cutter in the center of one of the dough rounds and fill with 1–1½ teaspoons of the filling, mounding in the center of the mold. Remove the cutter and cover the filling with the other dough round, egg wash-side down. Press down firmly with the cookie cutter to seal the filling inside. Using your fingers or a fork, press the edges of the empanada dough together to seal, discarding the dough scraps. Repeat with the remaining dough and filling.
Working in batches of 3–4, gently lower the empanadas into the hot oil and fry for 7–10 minutes, flipping once, until golden brown on both sides. Use a spider to transfer the empanadas to the wire rack and sprinkle with a pinch of salt.
Serve the empanadas hot with the horseradish herb sauce and spicy mustard sauce for dipping. Enjoy!
Reprint: This recipe first appeared on tasty.co, written by Tikeyah Whittle & Breana Jackson. To read more, click here.